You are an audiobook lover. You can spend your whole day to enjoy the interesting audiobooks. But, you don't have enough money to download, which makes you a limit, doesn't it?
Don't worry! Today, I will guide you how to read all great audiobooks you like with a coolest cost $0.
It is hard to believe, isn't it? But, it is absolutely true! No fee! All free!
Now,let's discorver!
Part 1: Preparation
The precondition is that you must have these items:
1 credit card ( Visa, master or disco ) still working ( having at least $1 in the account to make sure that the card can be still used )
1 email hasn't been used to register in Audible.com
Part 2: Carrying out
Step 1: Access the website Amazon.com, choose Try Audible Free and register: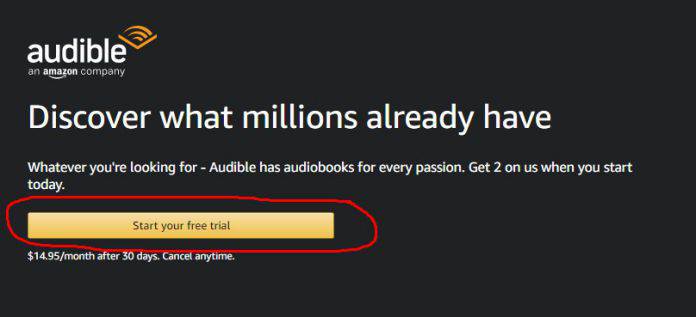 You will see a register page. Notice that this account can be use for both Amazon and Audible.com. In case,you have already had an account in Amazon.com, you don't need to register anymore.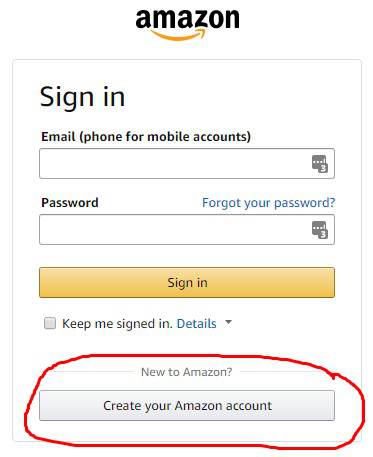 Then, you will see a credit information table. You have to fill all your credit information and choose Start Your Free Trial Now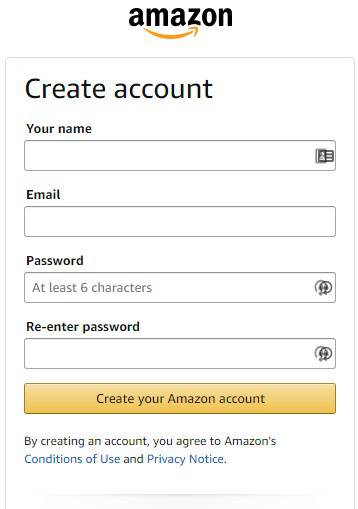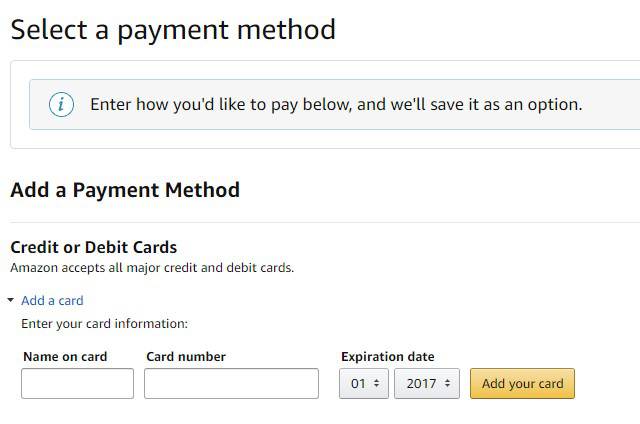 Now, the registration is completed. You will receive 1 credit for free and of course you can buy any audiobooks without caring about the price of the books.[su_note text_color="#000000″ radius="12″]Now, the registration is completed. You will receive 1 credit for free and of course you can buy any audiobooks without caring about the price of the books.[/su_note]
[su_dropcap size="3″]Tip[/su_dropcap][su_highlight background="#80f184″]When you completed the registration, you can skip entering the credit card and entering the card latter, after that contact the support department to bonus 1 more credit by the following way:[/su_highlight]
Access Audible.Com,  login your account -> Account detail -> Billing -> Manage Billing Information -> Fill your card information, then go to the end of the website, choose contact us as the image below: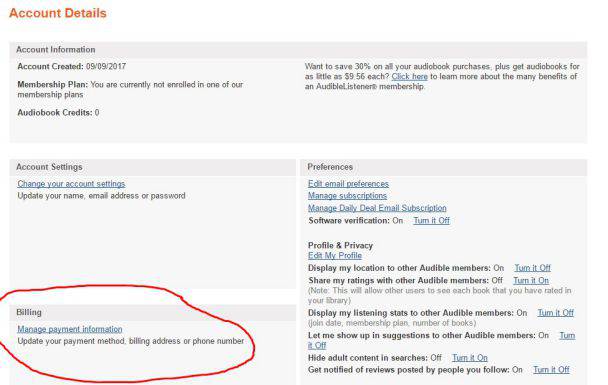 By the way, supporter will require you to supply the last four numbers of your credit card + expiration date. As the result, you will receive 2 more credits. Is is awesome?
Part 3: Buying a book
Now I will help you to buy a book and download!
Get your favorite book and choose Buy now for 1 Credit
Continue to finish the payment
Part 4: Guideline for Listening an audiobook you have bought
4.1 Directly listen on the website: You absolutely listen to an audiobook directly on website by choosing the Menu directly on the website:
Library -> My Books -> choose play to listen directly the book you bought
4.2 Download and listen directly on your device
At Library page, in Audio Quality part, choose Enhanced to download whole book or another format to download the book as multi parts
You need to install Audible listening app to listen to the book, find your app at here
[su_dropcap size="4″]Tips[/su_dropcap] for listening 10 Audiobooks free:
[su_highlight background="#e93214″]If you can't find any interests in the books you downloaded or you want to change another ones, go in to Library and choose Return to get 1 Credit back.[/su_highlight]
Choose any reasons as offered and press Return this title
After that, a credit will be return back to your account
Notice: You are allowed to return maximum 10 audiobooks by return function. In case you want to return more, contact the supporter in contact part at the end of website audible.com. To avoid wasting a lot of time for download, you should try listening in the Audio Sample to check whether you like that book or not
[su_quote]WAIT, DON'T LEAVE NOW, this is the most important you need to know[/su_quote]
Part 5: Cancel Trial Membership for avoiding wasting money
In the last day of membership cycle, the 30th day since the first register day, you should cancel your membership to prevent from paying Audible's automatic charge for your account ( The payment you will charge is $14.95). In addition, don't worry if you don't remember to Cancel membership on that day, you can contact with the supporter to get Refund into your account. Be calm! The AMazone customer service is the best one in the world.
To cancel, Enter your account -> Account Detail -> Cancel my membership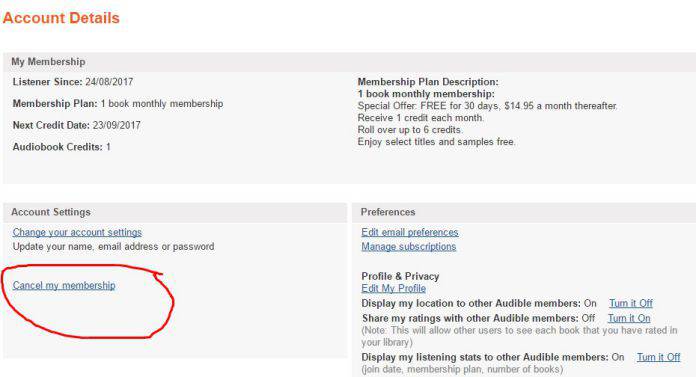 Choose any reason you want to cancel membership and press Continue
For each cancel reason, you will have to answer some next questions depending on the circumstance, but you still choose Continue Canceling
After all, your account won't be charged in the next time. However, you can't access this account to listen to the books you downloaded. By the way, you have choose active the Gold Membership with the fee $14.95.
I advice you should register this membership for their best discount.
Bye and see you later!
https://www.youtube.com/watch?v=Q2ihMpz9Hew
Tokybook Audio Player
The Audio Player works best on Google Chrome (latest version)
Hi everyone, please be noticed that the Audio player doesn't play next track on IOS version < 15.6. If you are facing that issue, just upgrade your IOS to version 15.6 to fix it. Enjoy!