Hangman's Daughter ~ Books 1-7
A historical fiction with a hint of spice surely makes the whole series of seven books appealing for the readers and the listeners. The story takes us to the world of fiction in different era and different centuries. The writer Oliver Potzsch takes us to the era of witchcraft and develops the whole world quite accurately that is no doubt the key thing in this masterpiece. The series starts with the year 1659 in Germany when witchcraft was a common thing and the trial once started used to engulf the whole of the town. The disappearance of the children and then found dead with a mark is really a horrifying description that we face at the start. The second part takes us even back in the year 1648 and again the murder starts the things, this time the one who dies is a monk and before his death he hints towards a hidden treasure for which Hangman and his daughter start an entire new investigation.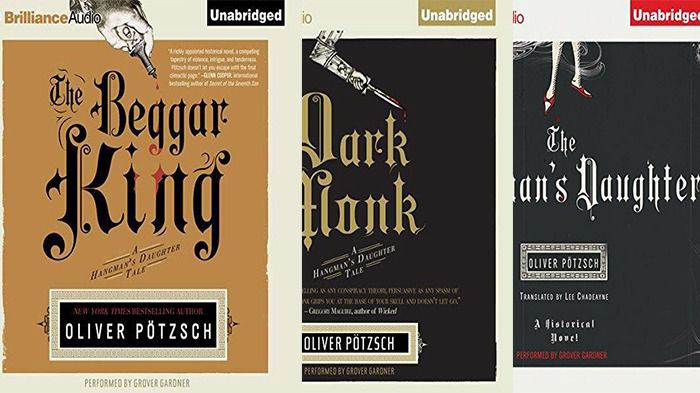 The stories are almost of the same century the decades are a bit different that's why the environment and the culture is almost the same throughout the seven books. The Castle of Kings – Oliver Pötzsch, The Black Musketeers ~ Books 1-2 – Oliver Pötzsch, Lee Chadeayne – translator are the books by the same author that also provide a same sort of landscape and a spice of fiction as well. The murders though are in this series are more than the other books of the writer. The narration is done by Grover Gardner who is an expert in such sort of stories, the rise and fall of his voice makes the scenes interesting and story more appealing to the eye listener.
Books 1-3 :
Books 4-7 :