Utilize our search toolbar promptly if the article lacks audio! Search Now♥
The Nixon Defense is a biography written by John W. Dean. John was the counsel to the then President of the United States, Nixon, during the Watergate scandal. John W. Dean brilliantly pieces together some interesting facts from the history that came through his personal first-hand experience. You will find him excellent with his research by bringing facts with no distortion at all. His other notable books include Conservatives Without Conscience and Blind Ambition.
Joe Barret is the narrator of The Nixon Defense book's audio version. The narrator was spot on with his performance and he exactly knows that what tone would suit for a biography like this one. This all comes through is a sheer experience as he has narrated several other similar novels in the past.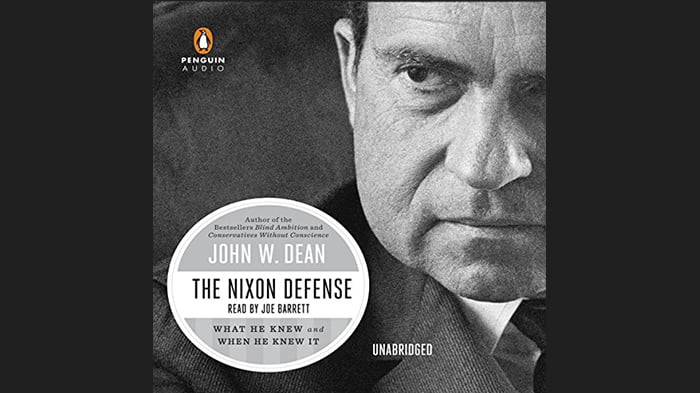 The Watergate scandal was something that completely changed the politics of America. The scandal took on new significance in the light of those many revelations regarding the surveillance program of the NSA. Remarkably, after 4 decades after his resignation, no one ever came forward with the full story of Nixon and his involvement in Watergate.
John Dean draws on his very own transcripts of countless conversations during his tenure as counsel at the White House with Nixon. The transcripts also had some secret recording of Nixon and also some 150K pages that are now part of the National Archives.
John Dean was able to connect those dots that were never connected before. It also includes a revelation about how and why part of the Watergate break-in. This book stands as the most authoritative account ever about the Watergate scandal and its impact on the politics of the United States of America and its people.