Utilize our search toolbar promptly if the article lacks audio! Search Now♥
Crucible of Gold is a fictional novel. It is a chapter out of the amazing The Temeraire Series. Naomi Novik has written this novel with lots of love and giving due attention to details to bring up an exciting plot with strong characters. The author is brilliant with many of her other novels. If two of the most in-demand novels written by Naomi are to be named then Spinning Silver and A Deadly Education would make an easy choice.
Simon Vance is the performer of this audio version of the novel. He managed to give a strong performance with no loopholes whatsoever. The audience just loved his voice for its impeccable tonal quality and apt expression.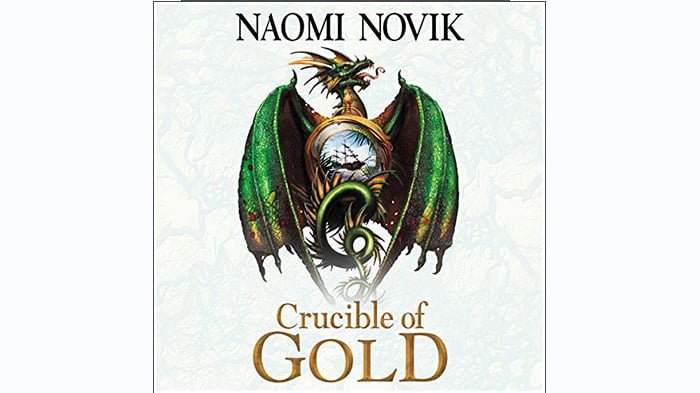 The followers of The Temeraire Series will find the French invading Spain. They allied with the resourceful Tswana Empire of Africa and managed to bring up a revolution that extended to Brazil. With the last desperate hope of Britain to defeat Napoleon, the government that initially sidelined Laurence is now ready to reinstate him.
The government got convinced that Laurence is the best available man to penetrate the fray and subsequently negotiate peace. Therefore, the pair set off on their journey to Brazil and to meet with some unmitigated disasters that push them to make an unwanted landing in the Incan Empire territory.
The novel is quite original, fresh, and fast-paced. It is full of some really wonderful characters who have a heart of gold. You will find it full of intrigue, exotic locations and some amazing swordplay as well. In short, this novel has got everything. Not to forget the brilliant audio performance given by Simon Vance who in this novel is right at the top of his game.