Utilize our search toolbar promptly if the article lacks audio! Search Now♥
John R. Erickson's series of Hank the Cowdog continues in his book number seventy-one of the series. The narration is also done by John R. Erickson which makes it clearer to the listener as the narrator is able to clear the points which he wants to convey in his writings in a better way. This time the old hero Slim is ready to finally settle down in his life by investing all his time and money in his personal life.
He quite rightly establishes a new herd with his savings and luckily his input bore fruit which makes him think of a bright and relaxes future ahead. The story quite nicely twists when there is a fire alert in the country because of the hot and dry weather. Slim is new in the business but the place and the climatic conditions are not new for him as he is the native of the down and thus knows all the ropes as for how to tackle such situations.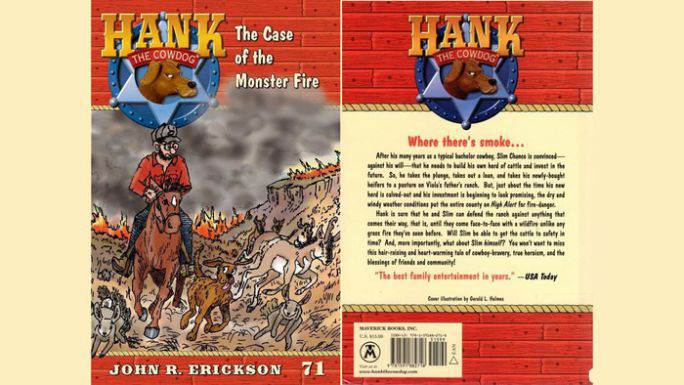 The cowboy perhaps faces the toughest job ever assigned to him in the west as this time he has nothing to lose. Both Slim and Hank come face to face with a wildfire which is so enormous that they find themselves out of stock in ideas. The story is wonderfully described when it comes to emotions and the facing of a natural calamity. The story also highlights the fact that there is no shield against a natural calamity when it is in full swing.
The whole cattle saving activity is really a heart-touching tale of bravery and determination. The scenes of the west are also nicely portrayed which shows that the writer possessed a lot of information about that land.
Kids may also like to listen to The Original Adventures of Hank the Cowdog, The Further Adventures of Hank the Cowdog and The Case of the Wandering Goats for more fun and adventure at the same time.