Utilize our search toolbar promptly if the article lacks audio! Search Now♥
A Burden of Chaos:
Sentinels of Creation, Volume 4
Those fans who thought that the third part was the last one which they would listen, well they were seriously mistaken. Robert W. Ross has no plan of ending this series so quickly, as his mind is still loaded with things that can garnish this series even further. Nick Podehl has continued to narrate this series since the start of A Power Renewed and A Tale of Two Gardens thus it is good to hear his voice once again.
Kellan is apparently living a neat life with his wife now but the things of the past trouble him every now and then in his dreams. Especially the last words uttered by Merlin just keep on echoing in the corridors of his mind. Meantime a strange creature comes to Kellan and his wife from another world which is another sign of what is coming to them quite soon. The creature utilized the Universal power to reach the domain of Kellan and it truly is not a good sign.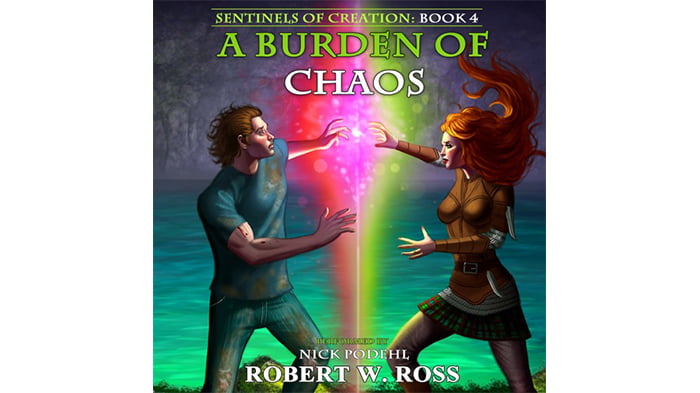 Land of Fae becomes Kellan's next stop and there he must establish a good relation with the current rulers of the domain. The rulers of the Land of Fae have one simple way of helping anyone i.e the one who seeks help must provide something in return.
Kellan is also asked to do the same and he knows that agreeing to the proposal will not bring merry results for him but in order to save his friends and the world along with it, he readily agrees. The burden of Chaos is not an ordinary thing to bear, Kellan prepares himself for this task once again for the sake of the friends who are left with him.
A Burden of Chaos A Burden of Chaos