Utilize our search toolbar promptly if the article lacks audio! Search Now♥
A Carnival of Snackery is a fictional title. It is beautifully written by David Sedaris. He is an American author, comedian, and humorist. He has written a few excellent titles where Dress Your Family in Corduroy and Denim is one of them. Another decent book from the author that you could try is Me Talk Pretty One Day.
David Sedaris paired up with Tracey Ullman as the narrator of this book. They both did pretty well with the narration of this book.
If it was all about the novel gaze that you are looking for then you have come to the wrong place. His observations rather turned outward – A fight between a couple of men on a bus, a fight between a couple of men on the street, pedestrians getting whacked over the head or coming together to was as a person considers hurdling to his death. At the book signing, a dirty joke was shared and at the dinner party, an even dirtier one was told. There will be a lot of jokes shared here and there will be plenty of laughs as well.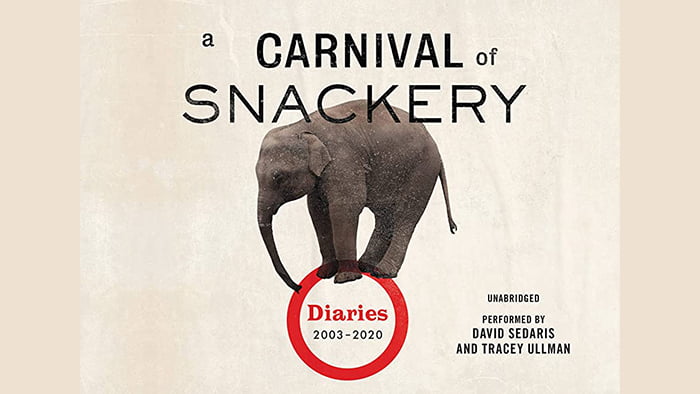 These diaries of David Sedaris will remind you that once you really hated George Bush and that was not too long ago. Trump on the other side was only a harmless laughingstock. Time marched on and David Sedaris recorded everything whether on his desk or while flying on the plane.
A Carnival of Snackery is the Book Review Editor's Choice in New York Times. This will be a highly satisfying book for the listeners. The diaries of David Sedaris will come out to the audience as clear, funny, and direct as his essays.